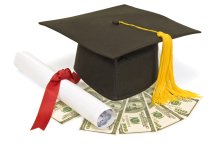 Since 2008, RC 10 has been awarding scholarships to high school seniors planning on pursuing a career in education. Four scholarships are given, one for each county represented by RC 10 members. Each scholarship is a $1,000 award, payable to the student upon receipt of a successful fall semester transcript.        
Students must complete an extensive application, which is then evaluated by a committee of RC 10 members. Each application is read and rated by three different committee members. Students are assigned points on each of two essay questions, class rank/GPA, course selection, activities, and other criteria. A special thanks goes to all the committee members who once again volunteered to receive applications in the mail and rate them at home.  
This year's scholarship winners are accomplished students, who all hope to become excellent teachers. Representing Saratoga County is Eliza Eagan from Galway High School. Eliza hopes to attend the University of Vermont on her way to a major in Elementary Education. The Rensselaer County recipient for 2022 is Bailey Catlin, a senior at Berlin High School. Bailey also hopes to pursue a career in Elementary Education while attending the College of St. Rose. Greenwich High School senior Mary Estramonte is the winner from Washington County. Mary hopes to begin her college education this fall at the University of Rhode Island where she will major in Communication Sciences and Disorders in order to become a Speech Pathologist. And lastly, Sydney Gonzalez is the 2022 recipient from Albany County. A senior from Guilderland High School, Sydney is headed to Nazareth College where she will pursue a major in education. 
We extend our sincere congratulations to these four outstanding future educators. Unfortunately, because of planning difficulties during Covid, we are unable to honor them in person as we usually do at our annual June dinner meeting.