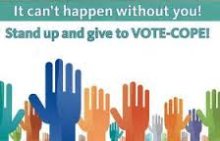 BY DEB ESCOBAR, 6 APR 2019
At the recent Committee of 100, Andy Pallotta stated, "They tried to kill us, and we got stronger." He went on to say that working together, retiree and in-service members made 300,000 phone calls and broke $11 million in Vote Cope contributions. These contributions enabled political action that helped to flip the House of Representatives and our NY State Senate. Contributions also helped the efforts of NYSUT in-service teachers and NYSUT retirees as they ran for school boards, town, county, and State offices.
Vote Cope contributions have a great impact on education funding and other issues that you care about, as well as providing funding for NYSUT Regional Conferences for retired members. But did you know that according to our NYSUT Vote Cope Coordinator Jeff Zuckerman, 80% of retirees no longer give to Vote Cope? It is so easy to support our union as it works to protect the things we've won, including our pension, health care, and right to organize. You can contribute online at:
https://www.nysut.org/my-nysut/reference/toolkit/member/political-action/vote-cope  (you will need to log in).
If you would like to contribute with a pension deduction, you can contact Linda Herrons at NYSUT, 518-213-6000, Extension 6620 for more information and a donation form.