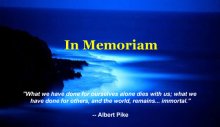 Unfortunately, RC 10 lost three of our most involved members during the last year. Those who strive to make a difference in the world, who love and are loved by those around them, are never really gone. Their impact is felt long after they have left us. We can choose to honor their memories in ways that continue their legacy.
We previously announced the passing of Dan Boone, who long served RC 10 in many capacities including as a delegate to the NYSUT Representative Assembly, a longstanding member of our Travel and Social Committee, and a representative for retirees at both the NYSUT Statewide Retiree Advisory Council and SALT. At the April meetings of the RC 10 Executive Board and Board of Directors, a motion was made and adopted to honor Dan and all that he gave to NYSUT Retiree Council 10. Beginning in June 2018 through June of 2023, the RC 10 Scholarship Award to a student from Washington County will be presented in the Memory of Dan Boone.
We also lost other two shining lights from our ranks, Josephine Sano and Joyce Foley. We are certain there are many other retirees from our region who have also passed on during the past year.
In accordance with the desire to honor those who are no longer with us, the Executive Board and Board of Directors has established a format for members to make donations to the RC 10 General Scholarship Fund in memory of a family member or colleague who has passed away. Below you will find a form to be used to make your donation:
http://rc10.ny.aft.org/files/scholarship_donation_form-8.docx