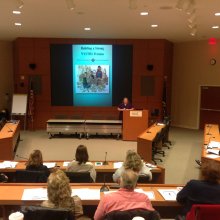 Participants at the 2016 NYSUT RC 10 Pre-Retirement Seminar
On Saturday, November 4, a Pre-Retirement Seminar was held at NYSUT Headquarters for active teachers and SRPs within Election District 10. The seminar was hosted as a collaborative effort by Retiree Council 10 and Election District 10.
Fifty-seven teachers came to hear from Cori Bichteman, representing the New York StateTeachers Retirement System, Adam Pellitier from the Social Security Administration, Angela Roy from NYSUT Member Benefits, and Steve Kramer from Feldman, Kramer & Monaco, P.C., who spoke about legal considerations before and after retirement.
Cori explained to the future retirees the differences between Tiers 1-6; the importance of checking that all employment service is recorded by the retirement systems (have they worked for the town government, local library, etc.?), options available to them at the time of retirement, etc. Adam discussed the method used to determine social security benefits; the differences in benefits when retiring at 62, at a person's full retirement age, and at 70. Angela, a Benefits Coordinator at NYSUT Member Benefits, discussed the multiple member benefits that continue into retirement. She indicated that there are options for various insurances (home, auto, dental, vision, etc.); travel opportunities; legal services; and discounts on various products. If you have not investigated member benefits, give Angela a call at 800-626- 8101. Steven Kramer from Feldman, Kramer & Monaco, P.C, provided information on trust and estate law which included the importance of a health care proxy, power of attorney, living will, and other documents to be considered as people retire.
Joy Bears were distributed to those attending who have colleagues and friends undergoing cancer treatment.
If you know of a NYSUT member thinking about retiring in the next few years, remind them of 
the Pre-Retirement Seminar that will be held in the fall of 2018.