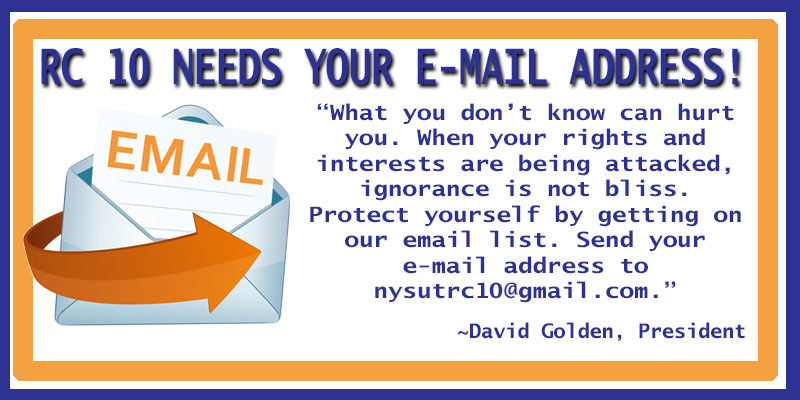 From Your President:
We live in an ever-changing world and sometimes that reality comes at us in the most unexpected way. RC 10 is facing some radical changes in the way we serve our members. We have a limited range of options to respond to this situation. NYSUT supports our communications with members by publishing six newsletters a year for each RC. We may do fewer but not more. Every three years they mail one newsletter that includes an election notice for us as first-class mail, so that all voters have ample notice of elections.
NYSUT is finding it necessary, for economic reasons, to reduce this  service to five issues of the printed newsletter per year, counting from last January! So what? Well it's not about elections alone; it is about communicating with our members. We face challenges to tenure, dues deductions, the right to organize and many other issues on the federal level. These changes directly impact our ability and effectiveness in NY State. We also confront the issue of possibly having a Constitutional Convention in New York that may threaten our ability to keep our secure pension system. Our newsletter and publications are crucial to our ability to inform and mobilize our members.
We are all vested in the pension system and it cannot be altered or reduced in mid-stream, now! If that present language in our state constitution is lost or altered, then all pensions, present and future are at risk. The New York State Teachers Retirement System is now fully funded, which means they have the money they need to fund their existing obligations at all times. If that is changed, where does our pension check money come from? In other states they promise pension benefits, but they do not fund them as they go along. Look at New Jersey or Illinois to see how bad that can get and how folks have had their pensions cut or reduced even after they began drawing benefits. Will that be the future of New York pensions? Will we be able to educate our members as the issue develops?
If we lose access to frequent newsletters, then what are we left with? Email is one answer, but that confronts the reality that only about one in nine members have registered their email address with RC 10 or NYSUT.
Don't want to hear about political issues we face so you didn't do it? Well how about hearing about saving money? We just put out an email notice relaying information from a member that discovered a way to save money buying theater tickets in NYC. We got back the largest response we ever had to an email! Folks wanted more info and expressed their appreciation for a way to save! If you did not see that, you can check this issue of the newsletter for the information. Fellow members who did register their email with us had that information a month or more ago.Bus day trips, overseas trips, food functions, Driver Ed saving programs, local speakers options, and many other opportunities for fun and growth go out via our Email system. Much information comes to us with limited advanced notice, but email gives you a chance to take advantage of those offers. We never have had space for all the information on a big trip in the newsletter, but our email system and website did have the ability to send full information to those who wanted it. If you were on the email list, you got it promptly, but if not you had to wait for the newsletter to know it was there! Then you could go to the website and check it out. Those who depended on the print form got information four to six weeks after those who registered their email address. They also got the full newsletter as a pdf attachment that early. If we cannot communicate, we cannot serve.
The challenges we face may have a severe impact on NYSUT's ability to protect your interest and its effectiveness in doing so. We need to start now to put in place every tool to protect our self-interest. It's not about political party affiliation or upstate/downstate divisions. It's about your right to protect your interest and join with other likeminded people to do so. But it depends on our ability to reach    members, and the number of members we represent. If we cannot communicate, we cannot protect. You can always delete a message you do not like or don't want to read, but that requires you get it so you make the final choice.
What you don't know can hurt you. When your rights and interests are being attacked, ignorance is not bliss. Protect yourself by getting on our email list. Send your e-mail address to nysutrc10@gmail.com AND DO IT TODAY. Don't be left in the dark.