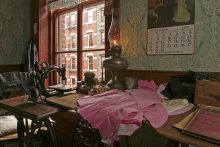 Join RC 10 for an active day in New York City touring the Lower East Side as we explore the area where many of our immigrant grandparents may have lived! We will begin with a one-hour presentation at the Tenement Museum and learn about ONE of the following programs: Sweatshop Workers, where we will visit the Levine family's garment workshop and the Regarshevskys' Sabbath table at the turn of the 20th century; OR Hard Times, where we will discover how the immigrants survived economic depression at Orchard Street between 1863 and 1935, visiting the restored homes of the German-Jewish Gumpertz family and the Italian-Catholic Baldizzi family. (NOTE: Both these presentations require the ability to walk up several flights of stairs since these old tenements do not have elevators!)
Next, we will have a guide from the "Big Onion Walking Tours" lead us on a historic and gastronomic tour through Chinatown, Little Italy and the Jewish East Side. History stops include the Jewish Daily Forward building, the Bowery, historic Hester, Orchard & Mulberry Streets and sites associated with Dr. Sun Yat Sen, Mother Cabrini and Jacob Riis. Food stops will include (among other things): Dominican plantains, fresh Italian mozzarella, just-baked bialys, Malaysian beef jerky, and cannoli. This 2-hour outdoor walking tour is presented rain or shine. Afterward, you will have three hours to explore this neighborhood on your own to shop, have an early dinner at one of them any ethnic restaurants, or walk 20 minutes south and explore City Park, St. Paul's Church, or walk across the Brooklyn Bridge.
Cost for everything including tips will be $105 for members who have paid the annual sustaining membership fee and $110 for guests and all those who have not paid the annual sustaining membership fee.
The bus will pick up at two locations: 6 AM at Saratoga Wilton Mall at the North end of Dick's, at Pole C2, and 6:45 AM at Crossgates Mall, coming off the Northway southbound Crossgates Mall at the end of the ramp take a right (it is your first right), the outer parking lot across from Penney's. There is a sign (not real big) that says Brown/Upstate.
The bus will leave NYC at 6:30 PM! Meet at the corner of Canal Street and Center Street by 6:15 PM! Print out and return the registration form linked below, with your check made out to Nysut Retiree Council 10. Make sure to list your place of pick-up, cell phone number, and email address. Contact Barbara Zuccaro at bzuccaro@roadrunner.com or call 518-792-6799.
http://rc10.ny.aft.org/sites/default/files/article_pdf_files/2018-05/nyc_touring_the_tenement_museum_1.docx