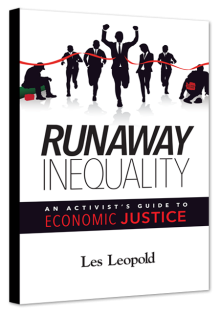 Come join us at NYSUTA headquarters, 800 Troy Schenectady Road, Latham, from 9:30 am to 2 pm on October 11, 2018, for our Fall Conference. As part of RC 10's Social Justice program, this year's presentation will be Runaway Inequality: An Activists Guide to Economic Justice. Program presenter Charlie Albanetti, Director of Citizen Action of New York, will lead us in an interactive workshop and discussion of the effects of government deregulation, financial strip-mining, and cuts to social spending. The top 1 percent controls nearly 40 percent of America's wealth, and inequality is at epidemic levels. Learn how we can turn the tides.
This workshop and lunch will be free of charge. The $20 reservation will be returned to you after the workshop has concluded and you return a short evaluation.
Schedule:
9:30 - 10:00 a.m.      Registration                                                                                                           
10:00 - 10:25 a.m.    Annual Meeting
10:30-12:00 p.m.      Part 1 of Runaway Inequality
12:00-12:45 p.m.      Lunch
12:45-1:45 p.m.        Part 2 of Runaway Inequality
1:45-2:00 p.m.          Closing remarks, door prizes, evaluations, checks returned
The companion book to the workshop can be purchased here with free shipping: https://runawayinequality.org/product/runaway-inequality-an-activists-guide-to-economic-justice/ or copies will be available at the workshop for a donation.
Make your check to NYSUT RC 10 and mail the registration form linked below to Barbara McCarthy, 5 Ascot Circle - Apartment 9, Saratoga Springs, NY 12866, before October 6, 2018. If you have any questions or dietary restrictions, call Barbara at 518-682-2814 or email her at irishiz9@aol.com.
http://rc10.ny.aft.org/sites/default/files/article_pdf_files/2018-05/october_2018_workshop.docx